iCarly is an American teen/kids television series. It is targeted towards preteens and young teens, but has a substantial following among children, older teens, and adults.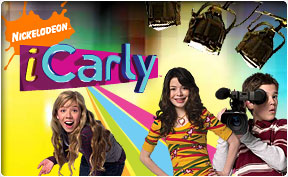 Basic Information
Edit
Every episode starts with a lowercase "i", like "iCarly." The series premiered on September 8, 2007 and is currently aired on Nickelodeon. It first aired on YTV (TV channel) a month later on October 8, 2007, and now concurrently airs on Teennick. The show first aired on Nickelodeon UK in Easter 2008. It aired Nickelodeon Australia in May 2008.
Dan Schneider, the producer, also created the shows All That, Kenan and Kel, Zoey 101, Drake and Josh, The Amanda Show, and Victorious.
The series stars Miranda Cosgrove as title character Carly Shay. Carly creates an Internet show, called iCarly, with her best friends, Sam (Jennette McCurdy) , Freddie (Nathan Kress), and brother Spencer (Jerry Trainor).
iCarly is also the first show to have the audience send video clips to the official website.
The show contains many parodies and sometimes Pop culture references to things the show's creators like a lot. Despite airing on a kids network, it also frequently contains quitemature humor
Ad blocker interference detected!
Wikia is a free-to-use site that makes money from advertising. We have a modified experience for viewers using ad blockers

Wikia is not accessible if you've made further modifications. Remove the custom ad blocker rule(s) and the page will load as expected.