Jennette McCurdy



Gender:

Female

Age:

20

Born:

June 26th, 1992

Character:

Sam Puckett

Occupation:

Singer, actress

Years Active:

2000–present
At the age of 19,
Jennette McCurdy
has an acting resume that many adult actors would be envious of. Over the last 7+ years, Jennette has delivered some phenomenol performances in a variety of different roles.
Personality
Edit
In her free time, Jennette enjoys many other activities such as dance, karate, ice skating, piano, cooking, reading, writing, and watching movies. She is also skilled in roller blading, skateboarding, singing, baseball, basketball, and trampoline. In fact, she will pretty much have a go at anything! Jennette has three older brothers, Marcus, Dustin, and Scott as well as three dogs (Snoopy, Chewie, and Musashi) and two turtles (Tootsen and Zeus).
Personal Description
Edit
Name: Jennette Michelle Faye McCurdy
Nickname: Net Net, Nettie, Jennetteteria, JMac, Bilger, Dunday, Bilgerdunday
Age: 21
Birthday: June 26, 1992
Place of birth: Garden Grove, California, U.S.A
Filmography
Edit
Television
Edit
iCarly (2007) (Lead) ... Sam
Lincoln Heights (2007) (Episodes: #1.3, 1.11, 1.12) ... Becky
Close to Home (2006) (Episode: #1.16) ... Stacey Johnson
Will & Grace (2006) (Episode: #8.10) ... Lisa
Zoey 101 (2005) (Episode: #2.5) ... Trisha Kirby
Over There (2005) (Episode: #1.8) ... Lynn
The Inside (2005) (Episode: #1.4) ... Madison St. Clair
Malcolm in the Middle (2005) (Episode: #6.21) ... Penelope
Judging Amy (2005) (Episode: #6.22) ... Amber Reid
Medium (2005) (Episode: #1.9) ... Sara Crewson
Law & Order: SVU (2005) (Episode: #6.11) ... Holly Purcell
Strong Medicine (2004) (Episode: #5.14) ... Haley Campos
Karen Sisco (2004) (Episode: #1.9) ... Josephine 'Josie' Boyle
Malcolm in the Middle (2003) (Episode: #4.10) ... Daisy Wilkerson
CSI: Crime Scene Investigation (2002) (Episode: #2.20) ... Jackie Trent
Mad TV (2000) (Episode: #6.1) ... Cassidy Gifford
Minor Details (2009) ... Mia
Proving Ground: Adventures of Captain Redlocks (2009) ... Aria Krait
The Last Day of Summer (2007) (TV) ... Dory Sorenson
Against Type (2006) (TV) ... Meredith
See Anthony Run (2005) ... Lucy Randall
Tiger Cruise (2004) (TV) ... Kiley Dolan
Breaking Dawn (2004) ... The Little Girl
Hollywood Homicide (2003) ... Van Family Daughter
My Daughter's Tears (2002) ... Mary Fields
Shadow Fury (2001) ... Anna Markov
Other Works
Edit
Music Video: "Safely Home" by Wild Horses
Music Video: "The Way You Love Me" by Faith Hill
Commercial for "Spring PCS" (2004) Various print and commercial work
On the Internet
Edit
Youtube: http://youtube.com/mebejennette
Myspace: http://myspace.com/bilgerdunday
Twitter: http://twitter.com/jennettemccurdy
Website: http://jennettemccurdy.com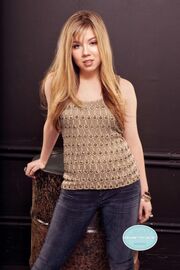 Ad blocker interference detected!
Wikia is a free-to-use site that makes money from advertising. We have a modified experience for viewers using ad blockers

Wikia is not accessible if you've made further modifications. Remove the custom ad blocker rule(s) and the page will load as expected.